Twilight Chamber Music at Rippon Lea
Join us in 2019 for the 25th Anniversary Season of Twilight Chamber Music at Rippon Lea (major sponsor the Colin & cicely Rigg Bequest administered by Equity Trustees), since 1994 one of Melbourne's longest running and most loved chamber music series. Six wonderful Sunday concerts in the glorious ballroom, from April to September, at 6.30pm.
"...chamber music as it was intended..."
Book for this series
2019 Program
192 HOTHAM STREET, ELSTERNWICK
Parking in the grounds (Melway 67 E2)
All concerts start at 6:30pm (no entry after 6:45pm).

Sunday April 28, 2019 at 6.30pm

Gypsies and Autumnal Beauty
Kathryn Taylor (violin), Chris Cartlidge (viola), Rohan de Korte (cello), Darryl Coote (piano)
Haydn – Piano trio in G major, XV/25 (Gypsy rondo)
Clarke – Sonata for viola and piano
Brahms – Piano quartet in G minor, Op 25

Sunday May 19, 2019 at 6.30pm

Janet and Gerald: A Partnership in Song
Sally-Anne Russell (mezzo-soprano), Darryl Coote (piano)
A tribute to mezzo-soprano Janet Baker and her associate artist Gerald Moore, featuring some of their favourite Lieder from Schubert and Richard Strauss, divine French chansons of Fauré, along with a smattering of English folk songs - a unique and exquisite recreation of the salon atmosphere for which these songs were composed

Sunday June 16, 2019 at 6.30pm

Rags and Riches
David Griffiths (clarinet), Rohan Murray (piano)
Greenbaum – Sonata
Kats-Chernin – Rag for clarinet and piano
Weiner – Hungarian Dance for clarinet and piano
Gershwin – Three Preludes (arr. clarinet and piano)
Lutoslawski – Dance Preludes for clarinet and piano

Sunday July 21, 2019 at 6.30pm

Rising Stars
Kevin Suherman (solo piano), Aura Go (solo piano)
Brahms - Two Rhapsodies, Op 79
Ravel - Mother Goose Suite
Bach/Busoni - Chaconne
Beethoven - Sonata Op. 31 No. 2 (Tempest)
Àdes - Darknesse Visible
J.S. Bach - Toccata in D major, BWV 912

Sunday August 18, 2019 at 6.30pm

A Musical Flower-Garden for Clarinet, Cello and Piano
Robert Schubert (clarinet), Josephine Vains (cello), Robert Chamberlain (piano)
Julian Yu - Prelude for clarinet solo (2005)
J.S. Bach - Gamba sonata in G Major, BWV 1027 (cello & piano)
Zemlinsky - Trio in D minor for clarinet, cello & piano, Op 3
Julian Yu - 'Fugue' for clarinet solo (2005)
Hindemith – Musikalisches Blumengärtlein und Leyptziger Allerley (clarinet & cello), selection
Bruch - Eight Pieces, Op 83 (clarinet, cello & piano), selection
Nino Rota - Trio for clarinet cello and piano (1973)

Sunday September 15, 2019 at 6.30pm

And Five Makes One
Elizabeth Sellars (violin), Lara Mladjen (violin), Lisa Grosman (viola), Svetlana Bogosavljevic ( cello), Rohan Murray (piano)
Schumann – Piano Quintet in E flat minor, Op 44
Howell – Piano quintet
Dvorak – Piano quintet No 2, in A major, Op 81

Book for this series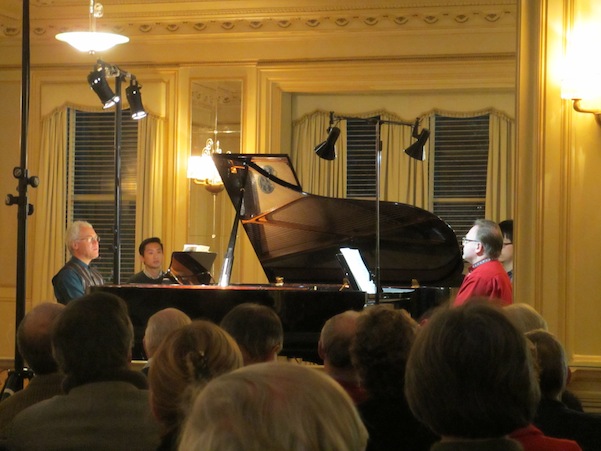 Upcoming Events
Spring Piano School 2019
for school-aged pianists at Glenfern
Piano students currently at Primary or Secondary school and aged 8 to 18 years take part in a 3-day program of piano classes, workshops and individual lessons at the National Trust historic house Glenfern, in East St Kilda. Teaching staff include experienced pianists and teachers from the Team Darryl Coote and Robert Chamberlain, plus special guest teachers Jennifer Jiaqi Li (Shenzhen, China) and Betty Vergara-Pink (formerly Musikhochschule, Freiburn, Germany) both formerly students of Max Cooke who may make a special teaching appearance. Read more... or view the flyer. Daily Observer Places for piano teacher professional development or for parents are also available.

Date and Time
Wednesday Oct 2, Thursday Oct 3 and Friday Oct 4, 9.30am - 5.00pm each day (Students attend all three days)
417 Inkerman Street (SE corner of Inkerman and Hothams Sts, East St Kilda
Book Now!
Glenfern 2
Where the Wild Sings Are - Songs of Animals and Beasts
Icon Trio - Justine Anderson (soprano), Vivien Hamilton (mezzo-soprano), Jeannie Marsh (alto), with Robert Chamberlain (piano). A vibrant ménagèrie of Australian rounds, unaccompanied madrigals, well-known classical masterpieces, medleys of popular songs, plus a few piano solos on animal themes. Composers featured include Flanders and Swann, Rossini, Richard Rodney Bennett, Tom Lehrer and plenty more!
Date and Time
Sunday October 27, 2019 at 3.00pm
Glenfern, 417 Inkerman St, East St Kilda, VIC
Book Now!
Downloads