Autumn Piano Weekend
Autumn Piano Weekend 2013 was held at Glenfern on March 23 & 24...
Around 22 pianists participated in a packed program of piano study in the historic surrounds of National Trust property Glenfern, in East St Kilda, Melbourne. Guest teaching staff included Betty Vergara-Pink, formerly Professor of Piano and Piano Pedagogy, Musikhochschule Freiburg and Dr Sandra Nash, Director of Studies, Dalcroze Australia. Team of Pianists staff were Prof Max Cooke, Darryl Coote and Robert Chamberlain, who devised and directed the event.
Themes for weekend included:
Practice and Learning (Saturday morning)
Movement and Musicianship (Saturday afternoon)
Developing technique for Adults and for University students (Sunday morning)
The Mystery of Memorisation (Sunday afternoon)
For further information download a summary with photos and schedule.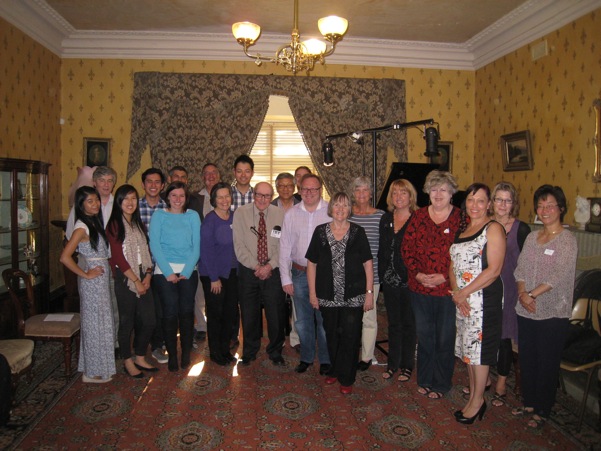 Upcoming Events
2018 Piano Marathon at Rippon Lea
To celebrate the Australia Day holiday at Rippon Lea Estate up to 100 pianists, young and old, will perform by invitation in the Ballroom at Rippon Lea, on a fine Bernstein piano from Bernies Music Land. Bring a picnic, enjoy the music, the gardens and this wonderful heritage site during this fundraising event for the National Trust! To apply to play or for more information download the information and invitation letter. Applications close Friday January 12, 2018.
Date and Time
Friday January 26, 10am to 5.00pm
Rippon Lea, 192 Hotham St, Elsternwick
Rippon Lea Ballroom
A Gala Fund-Raising Concert for the National Trust
Victor Hu (piano), Tony Fenelon (organ) perform Grieg's Piano Concerto in A minor Op 16 (first movement) and Rachmaninoff's Piano Concerto no 2 in C minor Op 18 plus entertaining solos for each instrument. Your choice of performance time - one at 1.00pm, the other commencing with light refreshments at 7.30pm, ticket price includes drinks, canapes and a program.
Date and Time
Friday February 23, 2018 at 1.00pm or 7.30pm
Rippon Lea Ballroom, 192 Hotham Street, Elsternwick (Melway 67 E2)

Bookings & Information
Twilight Chamber Music at Rippon Lea
Concert 1 - Russian Passion
Melbourne Cappalla conducted by Nicholas Cowall with Rohan Murray at the piano. Passionate and moving works by Arensky, Dargomyzhsky, Arensky - Nightaneyev, Napravnik and Glinka.
Date and Time
Sunday April 15, 2018 at 6.30pm
Rippon Lea Ballroom, 192 Hotham Street, Elsternwick (Melway 67 E2)
Book Now!
Downloads