Autumn Piano Weekend
Autumn Piano Weekend 2013 was held at Glenfern on March 23 & 24...
Around 22 pianists participated in a packed program of piano study in the historic surrounds of National Trust property Glenfern, in East St Kilda, Melbourne. Guest teaching staff included Betty Vergara-Pink, formerly Professor of Piano and Piano Pedagogy, Musikhochschule Freiburg and Dr Sandra Nash, Director of Studies, Dalcroze Australia. Team of Pianists staff were Prof Max Cooke, Darryl Coote and Robert Chamberlain, who devised and directed the event.
Themes for weekend included:
Practice and Learning (Saturday morning)
Movement and Musicianship (Saturday afternoon)
Developing technique for Adults and for University students (Sunday morning)
The Mystery of Memorisation (Sunday afternoon)
For further information download a summary with photos and schedule.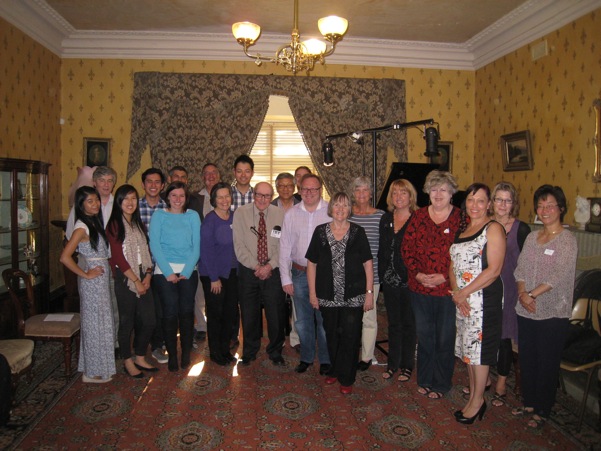 Upcoming Events
Spring Piano School 2018
for school-aged pianists at Glenfern
Junior Program for primary school students, plus Years 7s at music exam Grade 4 or lower, Senior Program for secondary school students, plus Observer Places for piano teacher professional development or for parents.
Two 2-day workshops of piano classes and individual lessons with Max Cooke, Darryl Coote, Robert Chamberlain and special guest teacher from the University of Melbourne, Dr Elizabeth Mitchell. Read more... or view the flyer.
Date and Time
Junior Program - Tuesday Sept 25 & Wednesday Sept 26, 9.30am - 5.00pm
Senior Program - Thursday Sept 27 & Friday Sept 28, 9.30am - 5.00pm
192 Hotham Street, Elsternwick (Melway 67 E2)
Book Now!
Glenfern 1
Baroque, Folk & Oz
Shane Lestideau (baroque violin) and Robert Chamberlain (piano) in a program with works for solo violin by Telemann and Bach, traditional violin solos from Ireland and Scotland, duos for violin and piano by Anders Westström and young Australian composer Alice Chance, plus piano solos by J S Bach and Ross Edwards, all in the intimate Drawing Room at Glenfern. Read more...
Date and Time
Sunday October 28, 2018 at 3.00pm
Glenfern, 417 Inkerman St, East St Kilda, VIC
Book Now!
Glenfern 2
19th Century Splendour
David Thomas (clarinet) and Darryl Coote (piano) perform the two sonatas for clarinet and piano by Brahms, plus two of Schubert's Impromptus - Op 90 no 1 in C minor and Op. 142 no 3 in B-flat major. Read more...
Date and Time
Sunday November 11, 2018 at 3.00pm
Glenfern, 417 Inkerman St, East St Kilda, VIC
Book Now!
Downloads