A Musical Flower-Garden in the Rippon Lea Ballroom - Sunday August 18 at 6.30pm
Excape Melbourne's chilly winter weather this weekend by visiting a 'Musical Flower-Garden' in the Ballroom at Rippon Lea!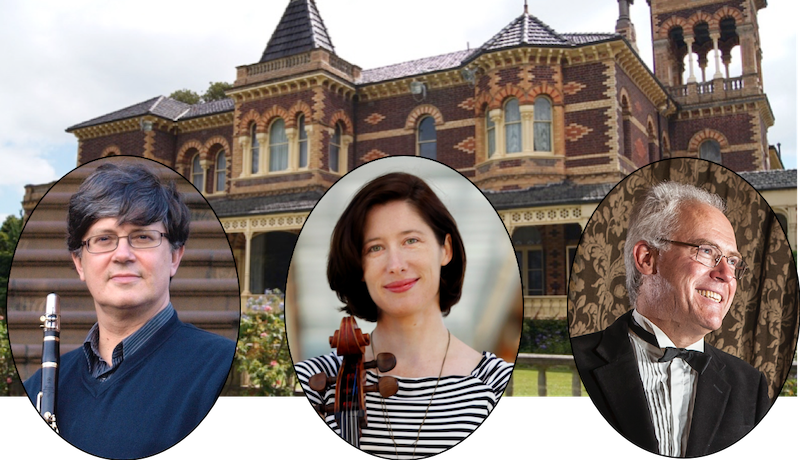 The title of this recital, which showcases duos, trios and solo with clarinet, cello and piano, is taken from Paul Hindemith's Musikalisches Blumengärtlein und Leyptziger Allerley, a set of duos he wrote to play domestically with his wife, not orignally intended for the concert hall! Clarinettist Robert Schubert and cellist Josephine Vains will share their favourite selections from these charming and sometimes humorous pieces.
When joined by Team partner Robert Chamberlain at the piano, the performers will showcase the Romantic exuberance of Max Bruch's 8 Pieces for clarinet, cello and piano Op. 83 with a selection of three contrasting and favourite pieces, and also explore Baroque sensibility on modern instruments with J S Bach's four movement Gamba Sonata in G major - written for viola da gamba and harpsichord but performed this evening with cello and piano.
Prelude after J S Bach for Clarinet solo (2005) by Melbourne composer Julian Yu, performed by Robert Schubert, also pays homage to and finds inspiration in music by J S Bach. Finally the artists will combine again with the little-known Trio in D minor Op. 3 for clarinet, cello & piano by Alexander Zemlinsky. Dating from 1896 and highly regarded by Brahms, who was responsible for its publication. This major three-movement work showcases the brooding intensity and fin-de-siècle energy that, together with many other musical currents, were swirling around at the dawn of the 20th century in Vienna!
A passionate and diverse program in the Ballroom at Rippon Lea this Sunday night - limited seating, so book now!
Sunday August 18, 6.30pm
Rippon Lea Ballroom,
192 Hotham Street, Elsternwick (Melway 67 E2)
Book Now!
Doors open at 6.10pm, concert will conclude shortly after 8.30pm.