The Sorrows of Young Werther - Recital and Live-stream from Glenfern on Sunday May 16 at 3pm & at 6.30pm
Don't miss the opportunity for hear more live music-making in the Team of Pianists' Rigg Bequest 2021 series at Glenfern, with some of Australia's finest string players - Elizabeth Sellars (violin), Caroline Henbest (viola), Molly Kadarauch (cello) - in collaboration with Rohan Murray at the piano.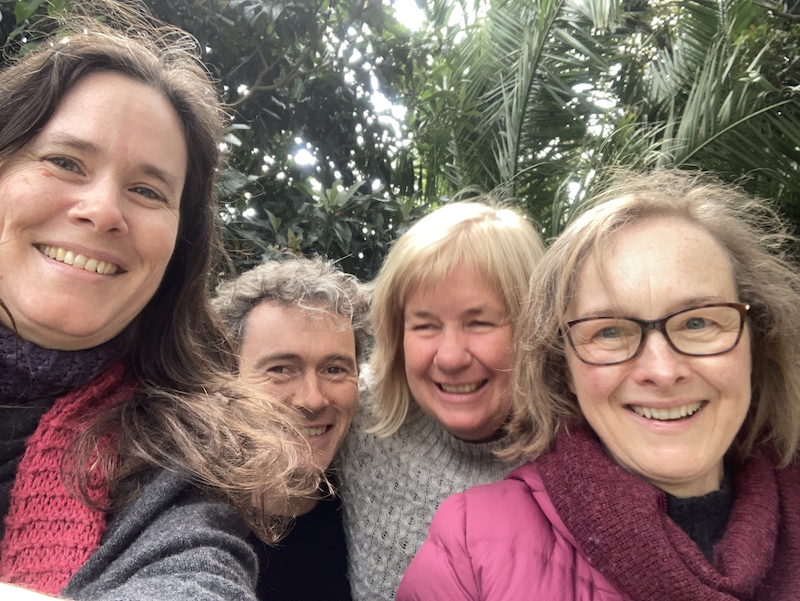 Molly Kadarauch, Rohan Murray, Elizabeth Sellars, Caroline Henbest
Elizabeth Sellars and Caroline Henbest met as students at the Guildhall School of Music in London. Originally from England, Caroline studied at the Yehudi Menuhin School as well as the Guildhall School of Music and came to Australia to take up the position of Principal Viola in the Australian Chamber Orchestra, where she became friends with Molly Kadarauch. Originally from California, Molly also came to Australia and took up a position in the Australian Chamber Orchestra. Since then, Elizabeth, Caroline and Molly have been long-time collaborators with a wonderful musical rapport and understanding, performing together at numerous concerts and festivals.
The Sorrows of Young Werther features one of the most stunning undiscovered works in the chamber music literature; Mel Bonis' dynamic and yet rarely performed Piano Quartet No. 1 (1905). Bonis (1858-1937) was a student of Franck and a peer of Claude Debussy at the Paris Conservatoire. Camille Saint-Saëns was a great admirer of her work, and especially of her first piano quartet. Bonis' early works were well received and she won a number of prizes, but her strict Catholic parents forced her to give up her musical career and marry a wealthy, widowed industrialist, albeit they had been persuaded to permit her to study music at the Paris Conservatoire. Bonis died in the same year as Ravel and Roussel and, despite the unfair limitations placed on her career, composed over 300 works.
You will also hear Brahms' iconic C-minor Piano Quartet, which is often referred to as the Werther Quartet, after Goethe's "Sorrows of the Young Werther" – an intense unrequited love story of the proto-Romantic Storm and Stress movement in which the brooding protagonist eventually shoots himself, lest he be without his love, Charlotte, who is betrothed to an older man. This wonderful chamber work is one of the favourites in the literature and will be reprised here with great joy by Rohan Murray and friends after their last performance of this work, almost 12 years ago to the day, on May 17, 2009!
The Sorrows of Young Werther will be performed twice for a small socially-distanced in-venue audience; at 3:00pm and at 6:30pm - limited seat numbers mean that early booking is recommended! The recital can also be enjoyed as a digital live-stream via YouTube at 6.30pm, on your computer, iPad or on a big-screen smart TV from the comfort of your own home!
Sunday May 16, 2020
Glenfern - 417 Inkerman Street, East St Kilda
at 3.00pm (audience in-venue attendance)
& at 6.30pm (audience in-venue attendance & live-stream online viewing)
Book Here - Audience In-Venue Attendance at 3.00pm or at 6.30pm
Book Here - Live-Stream Viewing via YouTube at 6.30pm
Visit our concerts page for more details and also for how to claim refunds or apply credit from postponed 2020 bookings to our upcoming events.
Live-Stream Report from April
Our most recent livestream from April 18, with Icon Trio and Robert Chamberlain explored Songs of Animals and Beasts in an amusing and wide-ranging program. We were delighted with live-stream viewers' enthusiastic comments about the the picture and sound quality as well as the variety and contrast of the program.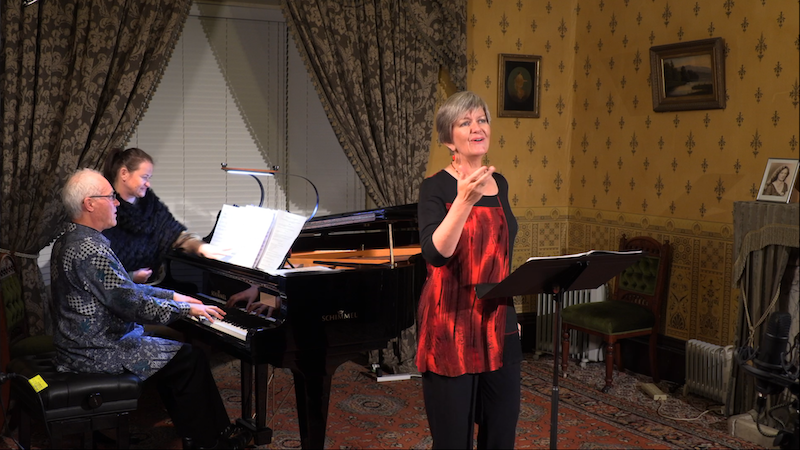 Jeannie Marsh (alto), Robert Chamberlain (piano) live-stream from Glenfern in Where the Wild Sings Are, April 2021
Do join us, in person or via live-stream, for the third 2021 C & C Rigg Bequest Classic Music at Glenfern recital on Sunday May 16!