Friends of the Team of Pianists
An Invitation from the President of the Friends of the Team of Pianists...
The aim of the Friends is to support the Team of Pianists by directly assisting the Team, helping to promote its activities and building membership of the Friends. Members receive discounts for some Team events such as masterclasses and lectures and will be invited to join in social and educational activities organised specifically for the Friends. The Friends also coordinate 'Friends Play for Friends', a group of members who are pianists who get together informally in members' homes to perform for each other. There are opportunities to meet the Team and other performers plus regular newsletters.
New members receive a free CD featuring recitals from the biennial Australian National Piano Award in Shepparton.
To join the Friends of the Team of Pianists, please print the FOTOPS Membership Form, fill in the tear-off slip and mail to the following address:
Secretary
Friends of the Team of Pianists
PO Box 333
Balaclava VIC 3183
For further information, please send an email to: friendsoftop333@gmail.com or talk to one of the committee members at a Team of Pianists event.
Committee of the Friends of the Team of Pianists:
Dr Deborah Jackson (President)
Louise Gomes (Vice-President)
Gerry Roberts (Treasurer)
Ray Jacobs (Secretary)
Rhonda Boyle
Teri Brugman
Clive Jackson
Yani Lam
Maria Walshe
Regular Newsletter for Members
Feel free to download some samples from the list below: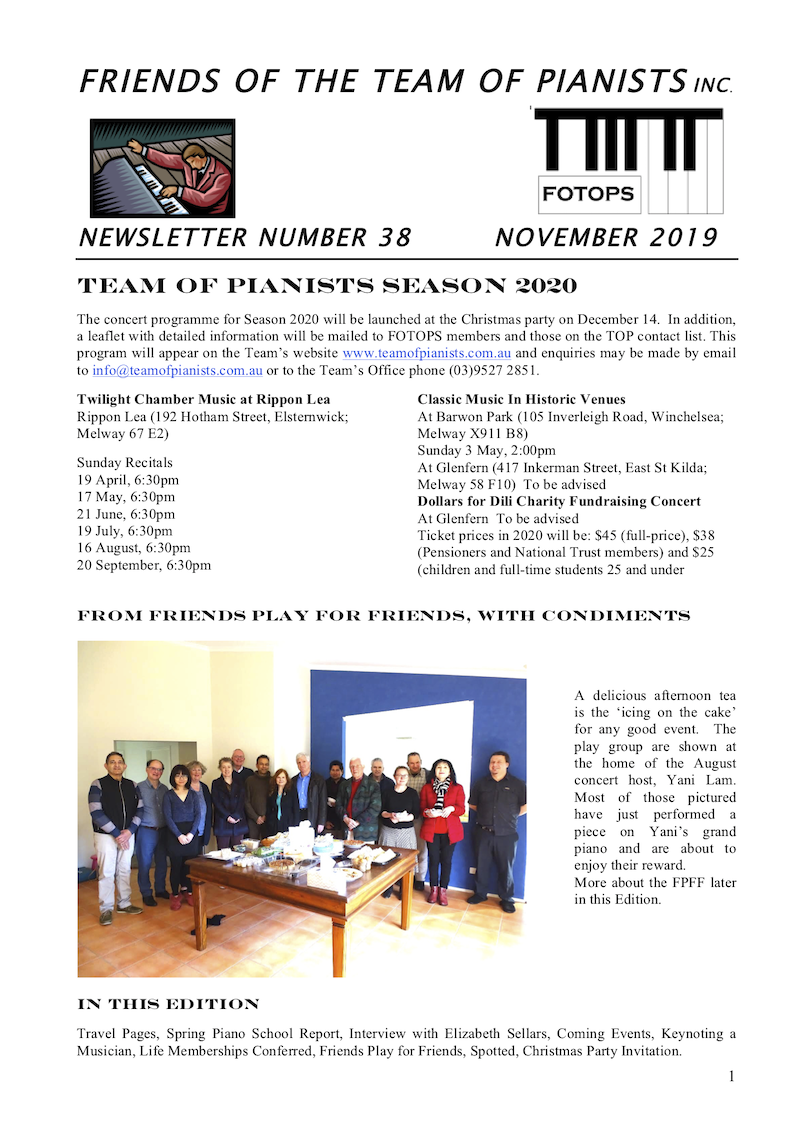 Upcoming Events
2021 Rigg Bequest Classic Music at Glenfern
August, September & October, 2021
Our Rigg Bequest Classic Music in Historic Venues Series 2021 will continue in a few months time, with three more hybrid live-audience/live streamed recitals from Glenfern, scheduled for August, September and October 2021.
Dates, programs, artists, full information coming soon!
Downloads