Guest Artists for 2020
No artists in next concert.
---
All guest artists
Lisa-Maree Amos - flute
Lisa-Maree Amos was born in Brisbane, Queensland, and enjoyed a lively and varied international career before making the move to Melbourne, where she has been performing with Orchestra Victoria since 2007. She attended the Queensland Conservatorium of Music and the Royal College of Music in London, as well as several summer programs, including two years as a fellow of the Tanglewood Music Festival in Boston, the Aspen Music Festival in Colorado, Schleswig Holstein Music Festival and the World Orchestra in Germany. While living in London, she played and toured with many of the city's great orchestras. Highlights include playing with the BBC Symphony in the London Proms, recording with the Bournemouth Symphony, numerous ballet seasons at Covent Garden and touring with The Royal Ballet Sinfonia. She then moved to the USA, where she played with the Boston Symphony, the Pacific Symphony, the Colorado Music Festival and the Los Angeles Flute Quartet.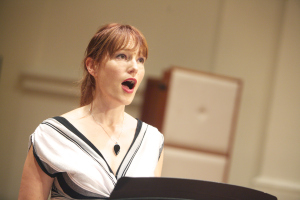 Justine Anderson - soprano
Justine Anderson completed her Masters degree in voice at the Victorian College of the Arts in 2008 and a fellowship at the Australian National Academy of Music in 2015. She has had wide performance experience as both a soloist and ensemble singer and a particular interest in contemporary classical music.
Justine's passion for contemporary music has seen her perform works by masters such as Boulez, Berio, Grisey, Dench, Varese, Eno, Foss, Lang, Crumb, Messiaen, Feldman, Furrer, Gubaidulina, Salonen and Ligeti. Her performances with new music groups include; Bang on a Can, Arcko Symphonic Ensemble, Three Shades Black, Six Degrees Ensemble, Icon Trio, Hutes, Astra, Melbourne University's New Music Studio, JOLT, Forrest Collective and as a guest artist at A.N.A.M in 2016 and 2017.
An increasing interest in the collaboration process has seen Justine work with a variety of Australian composers including Annie Hui-Hsin, Helen Gifford, Chris Dench, James Hullick and Evan Lawson.
Justine's opera roles with the opera company Emotionworks include Michaela in Carmen, The Witch in Hansel and Gretel, Tosca in Tosca and Violetta in La Traviata. In 2013 she played Brunhilda as part of a collaboration between Emotionworks and Opera Australia's Melbourne Ring Festival.
Other highlights include a performance as a nightclub singer in the short film 'The Black Pine Road', a role in the play Orphanage of Animals (Awarded the Medal of Ulm, Germany 2012) and Matthew Hindson's opera Love Death Music Plants. Justine has also worked with Inventi Chamber Ensemble, The Team of Pianists and as a soloist in various Oratorio performances. Festival performances include Bendigo International Festival of Exploratory Music, Canberra Festival, Melbourne International Arts Festival, Port Fairy Spring Festival, Darebin Music Feast and Melbourne Fringe Festival.
In 2008 she recorded for the ABC the Australian premiere of the Alberto Ginastera work Cantata for Magic America as part of the Simplot International Masterclass Series and again performed this important work in 2011 in a concert at the Australian National University to celebrate the Bicentenary of Argentina. In 2016 Justine recorded Jonathan Mills Ethereal Eye and performed this work as part of the Melbourne Festival.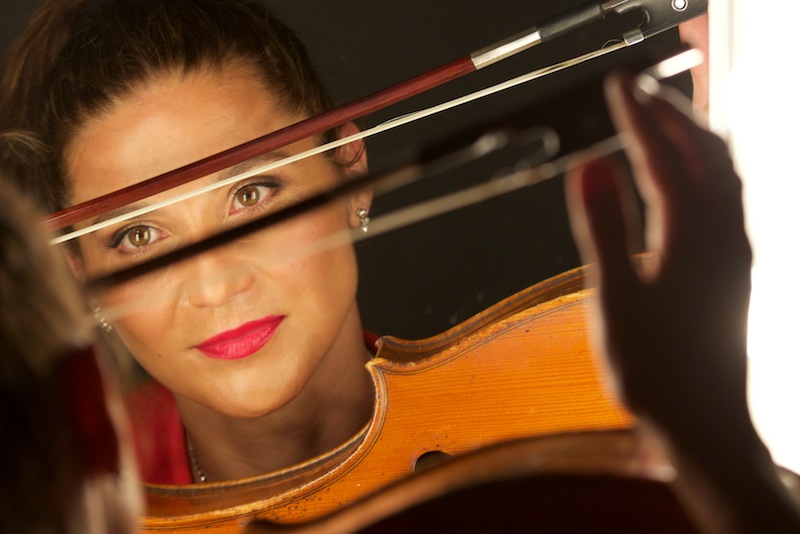 Svetlana Bogosavljevic - cello
Originally from Belgrade, Serbia, Svetlana studied at the Special High School of the Tchaikovsky Conservatorium of Music, Moscow, and the Cologne Hochschule of Music, working with legendary cellists, Daniel Shafran, Boris Pergamenshikov and Andre Navara. As an orchestral musician she held the position of Associate Principal Cello with the Rheinische Philharmonie and has worked with the North German Radio Orchestra, Bamberger Symphoniker, Cologne Chamber Orchestra, Sydney Symphony, Melbourne Symphony and Singapore Symphony Orchestras. She is a founding member of the critically acclaimed trio, Ensemble Liaison. With Ensemble Liaison she directs and performs a 3-concert series at the Melbourne Recital Centre along with regular performances for Musica Viva, ABC Classic FM, and appearances at the Australian Festival of Chamber Music, Townsville, the Port Fairy and Woodend Winter Arts festivals. She has collaborated with many wonderful Australian and International artists including Nemanja Radulović, Emma Matthews, Cheryl Barker, Peter Coleman-Wright, Ray Chen, Wilma Smith, Henning Kraggerud, Paul Grabowsky, David Jones and Tony Gould.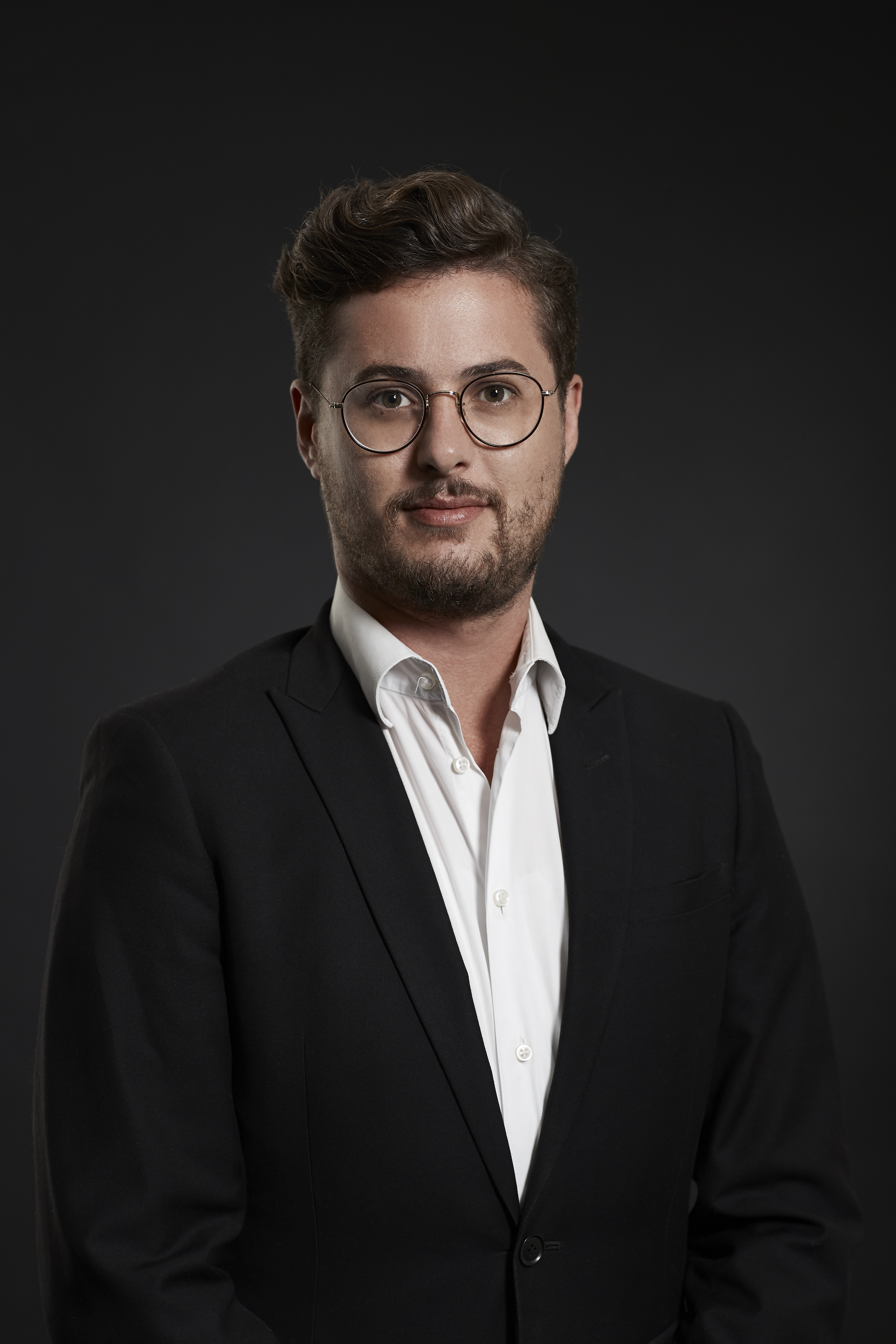 Christopher Cartlidge - viola
Sydney-born violist Christopher Cartlidge studied at the Tasmanian Conservatorium of Music and the Australian National Academy of Music. He has been a member of the Melbourne Symphony Orchestra since 2011, performing on numerous occasions as Principal Viola. He has appeared as a guest Principal with Orchestra Victoria and Melbourne Chamber Orchestra and as Guest Associate Principal with both Victorian Opera and the Australian Opera and Ballet Orchestra. In 2015, Chris was a grand-finalist and multiple prize-winner in the ABC Symphony Australia Young Performers' Award for his performance of the Australian premiere of Edmund Rubbra's viola concerto, with the Tasmanian Symphony Orchestra.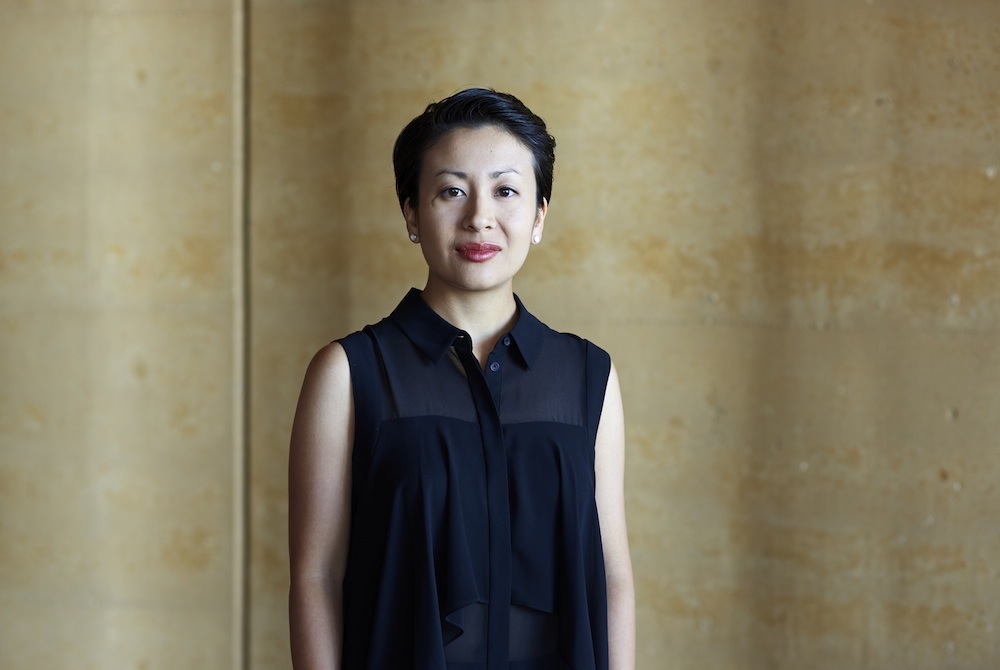 Aura Go - piano
Australian pianist Aura Go enjoys an active and multifaceted musical life, performing as a soloist, chamber musician, lied pianist and conductor. Recognized for her imaginative and compelling performances, Aura has been soloist in concertos ranging from Bach to Schnittke, and appeared at international music festivals including the Melbourne International Arts Festival, Metropolis New Music Festival, Kuhmo Chamber Music Festival and Edinburgh Festival. Marking the beginning of her ongoing interest in Finnish music, Aura gave the first Australian performances of Rautavaara's first and second piano concertos with the Melbourne and Adelaide Symphony Orchestras in 2002 and 2003. Recent highlights include performing as soloist with the Tapiola Sinfonietta in Aarre Merikanto's third piano concerto for the 2017 PianoEspoo Festival, solo and chamber performances at the Kuhmo and Kauniainen music festivals and recitals in Denmark, Poland, Italy, the USA and Australia. In 2018, Aura gave her recital debut at the Sydney Opera House, was guest artist at the Huntington Music Festival, Port Fairy Spring Music Festival and Rauma Festivo in Finland. In 2018-19, Aura is a Musica Viva FutureMakers artist.
As a member of the KIAZMA Piano Duo with Japanese pianist Tomoe Kawabata, Aura has released her first CD Five Rocks in a Japanese Garden, which features first recordings of works for two pianos and piano duet by five prolific Japanese composers. In 2019 the duo undertakes some of its most ambitious projects yet, including a new exploration of Bach's ultimate masterpiece, the Art of Fugue.
A keen advocate of new music, Aura enjoys collaborating with composers and has presented numerous world premieres of works by Gordon Kerry, James Rushford, Garth Neustadter, Tiina Myllärinen and Kate Neal, among others. Her work as conductor/pianist for the premiere of Neal's large-scale multidisciplinary work Semaphore was awarded Best Instrumental Performance at the 2016 Australian Art Music Awards. As an educator, Aura has taught chamber music at the University Of Melbourne Conservatorium Of Music, piano at Yale College and the Sibelius Academy, and has been a visiting artist at the Fulbright College of Arts and Sciences at the University of Arkansas, USA, the Royal Academy of Music in Aarhus, Denmark, and the Feliks Nowowiejski Academy of Music in Bydgoszcz, Poland.
Aura completed her early musical training in Australia at the Victorian College of the Arts, followed by performance studies at the Australian National Academy of Music. In 2011 she attained her Master of Music degree from the Yale School of Music, and is now a doctoral candidate at the Sibelius Academy in Helsinki. Her artistic research addresses the aspect of creativity in classical music performance, drawing on the psycho-physical approach of actor Michael Chekhov and exploring ways in which musicians can achieve a more open, spontaneous creative state when practicing and performing. Her principal teachers have included Max Cooke (Australia), Peter Frankl (USA) and Erik T. Tawaststjerna (Finland).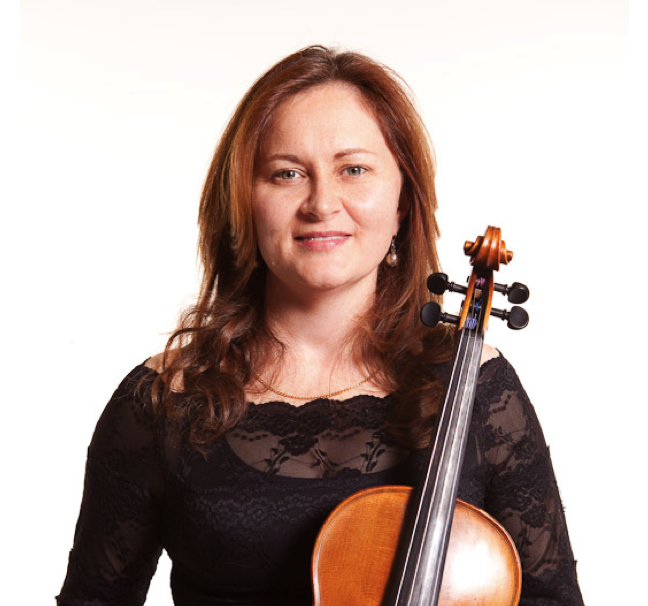 Lisa Grosman - viola
Lisa Grosman recently returned to live in Australia after nearly 15 years as a member of the Irish Chamber Orchestra. During this time she toured extensively throughout Europe, America and Asia, and worked with directors such as Anthony Marwood, Pekka Kuusisto, Richard Tognetti, Maxim Vengerov, Gabor Takacs-Nagy, Jorg Widmann and Steven Isserlis. Lisa has now been appointed to the Sir Zelman Cowen School of Music at Monash University, as part of a new initiative by the String Faculty to nurture and encourage the study of viola.
Lisa began learning Suzuki Method violin at the age of five. She later studied with Alice Waten at both the Sydney Conservatorium of Music, and the Australian Institute of Music. Lisa was the Concertmaster of the Australian Youth Orchestra, but then while attending a programme at the Australian National Academy of Music, she met Esther van Stralen (Principal Viola, SSO) and Irina Morozova (Goldner Quartet), and became fascinated with the viola. This led to masterclasses at the Australian National Academy of Music (ANAM) with Professor Bruno Giuranna, and after receiving a scholarship to join his class at the University of Limerick, Lisa travelled to Ireland, completing a Master of Arts in Classical String Performance. She continued her studies with Professor Giuranna for a further two years in the Corso di Perfezionamente in Cremona, Italy at the Accademia Walther Stauffer
For four years, Lisa was the Director of Strings for the Irish Chamber Orchestra's Education and Outreach Project, "Sing Out with Strings" in inner city Limerick, teaching over 300 children in an El Sistema inspired programme where music is used to promote social change in disadvantaged communities. She has also attended El Sistema Conferences in Los Angeles, Philadelphia, London and in Stirling (Scotland). Aside from her work with the Irish Chamber Orchestra, Lisa was the solo violist in the contemporary music group "Crash Ensemble" for nine years, working with artists such as Arvo Part, Steve Reich and Gavin Bryars. She was also very involved with the National Youth Orchestra of Ireland, and was a guest examiner at the Royal Irish Academy of Music.
Since her return to Australia, Lisa has taught at the University of Queensland, covering for Professor Patricia Pollett. She has been Guest Principal Viola of the Australian Opera and Ballet Orchestra and the Tasmanian Symphony Orchestra, Darwin Symphony Orchestra, and also performed with the Australian World Orchestra, the Australian Chamber Orchestra, Melbourne Symphony Orchestra and Orchestra Victoria. She has given masterclasses for the Australian World Orchestra, AUSTA Vic and the Jakarta International Summer Music Festival. Lisa teaches violin and viola at VCASS (Victorian College of the Arts Secondary School) where she is also the Director of the Senior String Ensemble. She is also a regular guest teacher at Suzuki workshops in NSW and Victoria.
Future engagements include performing the complete Beethoven cycle with the Fidelio Quartet at the Melbourne Recital Centre, touring India with the Australian World Orchestra, and returning to Ireland later this year to teach at the Ceol na Mara summer school. Lisa has received numerous awards and scholarships including the major prize from the Australian Music Foundation in London. Lisa's viola was purchased with assistance from the E.V.Llewellyn Memorial Fund.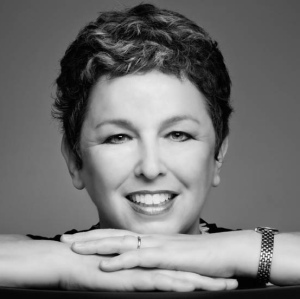 Vivien Hamilton - mezzo-soprano
Vivien Hamilton made her student operatic debut in 1983 at the International Festival of Perth in the role of Phylidel the Airy Sprite in Purcell's King Arthur with John Milsom (WAAPA) as director. Her fully professional operatic debut occurred in the UK in 1987 as 'Papagena' in The Magic Flute (Ivan Fischer, conductor) whilst on tour with Kent Opera. She has since performed in Scotland, France, Finland, Canada, China and Australia - equally comfortable as soloist, ensemble singer, in concert, on film or on stage.
Vivien studied musicology with Professor David Tunley Chevalier de L'Ordre des Palmes Académiques and singing with acclaimed Australian Soprano Molly McGurk as an undergraduate at UWA; also in London with contemporary specialist Jane Manning and David Mason; then at Masters degree level with Margaret Haggart. In masterclass with Emma Kirkby, Anthony Legge, Anthony Rooley and Evelyn Tubb.
Her passion for early music has realised collaborations with many leading Australian early music groups such as e21, Ludovico's Band, consort eclectus, Rosemary Hodgson (lute); the Australian Brandenburg Orchestra and Collegium Symphonic Chorus (WA). A highlight: singing the role of 'Clorinda' in Monteverdi's opera Il Combattimento di Tancredi e Clorinda (Sydney Opera House, Utzon Room Series) and in BBC Singers singing with Jessye Norman in Schönberg's Gurrelieder (Pierre Boulez, conductor). Vivien currently divides her time between researching/performing chamber performance and recital projects; as director emeritus of Early Voices; as singer at auncienthermony.com; and with Ensemble Solasta.
Other projects in non-early music fields include: 20th-century vocal ensemble work: Icon Trio with Justine Anderson and Jeannie Marsh Vox Pix, Scots Haiku, and Should Auld Acquaintance (with Robert Chamberlain and TOP), Steve Reich's Music for 18 Musicians (MSO Metropolis Festival with Blackbird Ensemble (Chicago) 2012, Brian Eno's Music for Airports with Bang on a Can (Melbourne International Festival), Barry Kosky's Voice, Jam and Videotape for 4 singers (Adelaide International Festival), Steve Reich's Tehillim (Melbourne International Festival) with e21; Theatre and Opera, Mrs Andersson in A Little Night Music with Melbourne Theatre Company, Miss Tina in Michael Hurd's The Aspern Papers for the Collins Street Promenade, understudies an dancing cameos in operetta with New Sadlers Wells Opera, Gilbert and Sullivan with the London Savoyards; Artsong recital many with pianist Len Vorster 'Gallic Muse' (the French mélodie), 'Music of Andre Previn', 'Six Degrees of Separation' (French music from 1920-1940) Blow The Wind Southerly (A tribute to Kathleen Ferrier), and with Glenn Riddle Scotch Strathspey and Reel, etc.
Vivien has recorded for ECM with The Hilliard Ensemble (Passio Arvo Pärt); TER Classics with New Sadler's Wells Opera (The Merry Widow Franz Léhar); ABC Classics with Rosalind Halton and Chacona (Olimpia: Cantatas of Alessandro Scarlatti) and Move Records with Orpheus Ensemble (Tyrannic Love: Choice Songs and Ayres of the Restoration Stage) with Len Vorster Songs of Robert Burns, with La Compania Renaissance Music.
"Vivien Hamilton is the star of the show. Words are subtly coloured .. an approach which is in sympathy with the music."
Vivien can be seen on the Classical Destinations TV/DVD show (hosted by Aled Jones) performing songs by Percy Grainger with Glenn Riddle, and with Len Vorster on DVD 'A Castle Mills Suite' by John Maxwell Geddes in 2015. Vivien has also sung backing vocals for films, such as Elizabeth (starring Cate Blanchett). Vivien is Secretary of the Australian National Association of Singing Teachers (Victoria Branch) and on the council of The Melbourne Scots and is on staff at the Melbourne Conservatorium of Music and Monash University and for her private studio Voyce Studio.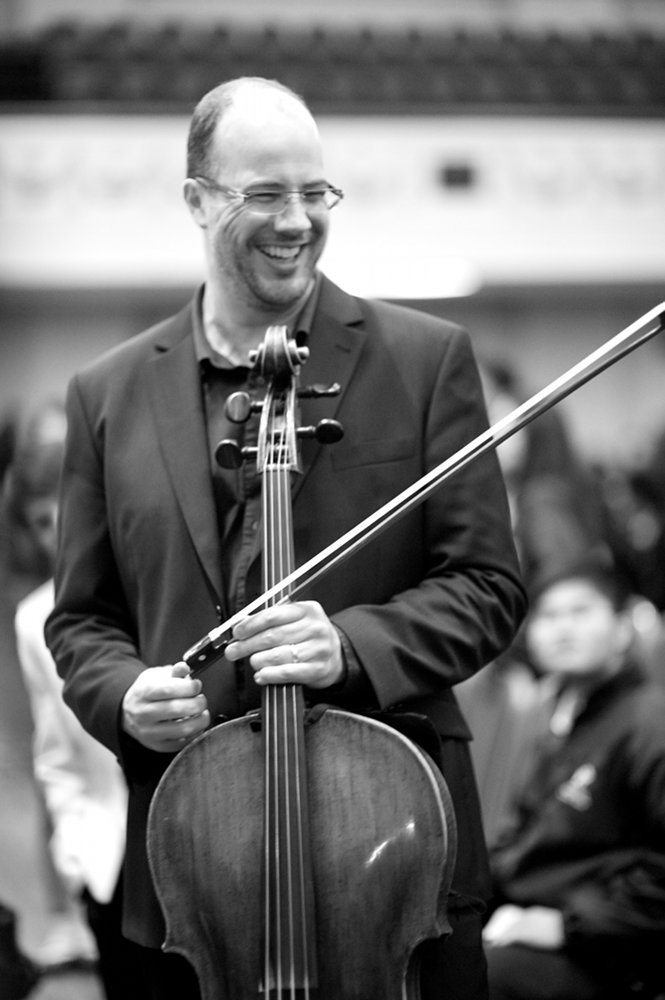 Rohan de Korte - cello
Rohan chose to play the cello at the age of five simply because it was bigger than a violin. He was lucky to have teachers like Henry Wenig and Nelson Cooke to teach him how to play it and now he has a position with the Melbourne Symphony Orchestra.
After studying in Melbourne Rohan would actually have preferred to play Basketball for Australia, or at least the Chicago Bulls, but decided instead to pursue the cello to Croatia for lessons with Valter Despalj. This was followed by five years of study at the Cologne Hochschule for Music with Claus Kanngeisser, including chamber music lessons with the Alban Berg Quartett. He completed his performance diploma in 2000 with distinction and returned to Australia spending the next three years freelancing with the Sydney Symphony before being appointed as the Associate Principal cellist with Orchestra Victoria.
Aside from now playing with the MSO, Rohan teaches at Melbourne University and has tutored at the Australian Youth Orchestra National Music Camp. He plays a lot of chamber music with friends and has even tried composing. His debut piece 'The Haunted House' is extremely popular with younger audiences. He has been a regular guest artist at chamber music festivals and plays in a crossover jazz/classical group called 'Shakin' not stirred'.
Rohan's favourite composer is Beethoven, although Mahler's ninth Symphony wins as his favourite piece. His cello is a beautiful German instrument from 1720. He has three very rowdy sons who think that playing the cello is very funny yet interesting and, after suffering a broken neck, Rohan has vowed never to try surfing again.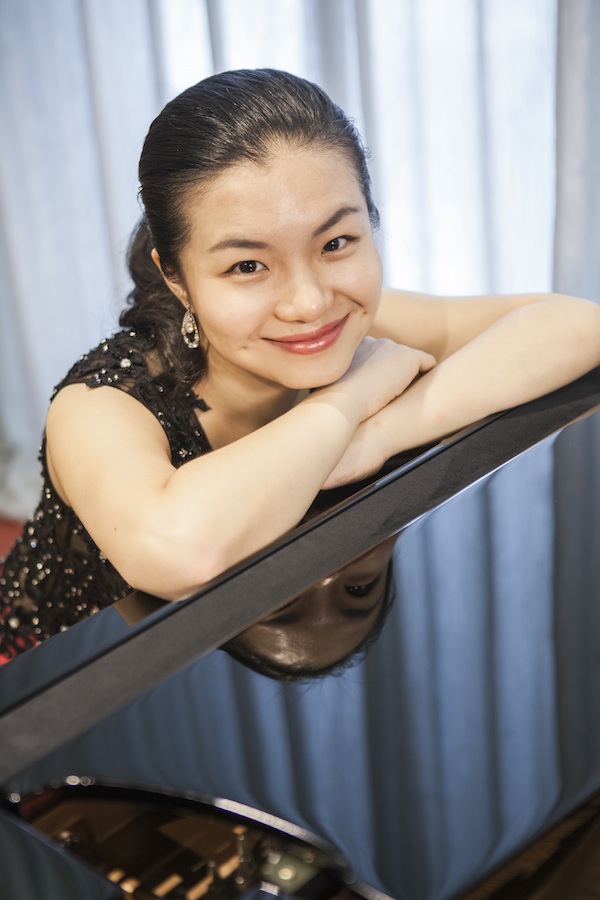 Jennifer Jiaqi Li - pIano, Guest Teacher at Spring Piano School 2019
Currently the pianist-in-resident at the Shenzhen Symphony Orchestra, Jennifer Li is also the founder and Managing Director of Shenzhen Jiaqi Education Consultancy Ltd.
As a soloist and chamber musician, she has performed in countries across the world such as Australia, China, South Korea, United States, United Kingdom and Colombia. She earned her Master of Music degree from the Eastman School of Music (USA) and her Bachelor's at the Royal Northern College of Music (UK) with first-class honours.
In 2011, Jennifer completed her Certificate of Teaching course and obtained the DipABRSM in Teaching. After years of studies abroad, Jennifer returned to China in 2013 and has been very active in both performing and teaching areas. She has been representing the ABRSM China southern regional office to give seminars to teachers at various cities and her students have won numerous awards. She was a teacher at the Shenzhen Arts School between 2013 and 2016.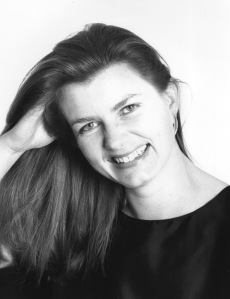 Jeannie Marsh - alto
Jeannie is a graduate of University of Melbourne Faculty of Music, and Victorian College of the Arts. Awards, grants and scholarships enabled her to continue her studies in Italy and the UK. For over 35 years, Jeannie's career has combined her passions for singing, music education, and community arts.
Jeannie has performed as a soloist around Australia and internationally, with organisations including Victoria State Opera (including Third Lady in The Magic Flute, Madame Larina in Eugene Onegin; Young Artist program), Chamber Made Opera, Seymour Group, Melbourne Theatre Company (in Sondheim's A Little Night Music), Musica Viva, Melbourne Symphony Orchestra, and the international festivals of Melbourne, Sydney, Berlin, Adelaide and Brisbane. Jeannie has performed major works by composers ranging from Mozart to Boulez, Schoenberg, Ravel, Berio, Sculthorpe, Poulenc, Stravinsky, and Britten. She has performed in Asia, Europe and the UK (including The Garden Project new operas at Covent Garden), and has been heard regularly on ABC Radio (including her series The Twentieth-Century Voice). She has a strong commitment to the music of Australian composers, and in 2004 received an APRA/Australian Music Centre award for her "long-term contribution to the advancement of Australian music". She produced her CD Madrugada in 1999 with guitarist Ken Murray, and they continued their partnership in Latin jazz duo Dry Martinis.
In 2003, Jeannie commissioned, produced and performed in new Australian opera Love, Death, Music and Plants (Hindson, Lipson), the story of the first Director of Royal Botanic Gardens Melbourne, Baron Ferdinand von Mueller. In 2011 she formed Icon Trio to perform in "voices and images" event Vox Pix.
As a music educator, Jeannie has taught at Distance Education Centre Victoria, the University of Melbourne, Deakin University, and Victorian College of the Arts. In 2019 she is working with Melbourne Recital Centre, creating online educational activities for VCE Music students.
As a community arts leader, Jeannie has been Artistic Director, composer, conductor, and performer in large projects such as Serenading Adela: a Street Opera (2018), and health/music DVD project Breast Beaters (2015). She has worked extensively with Canto Coro community choir and Dandenong Ranges Music Council, and currently leads three community choirs.
Jeannie has been an Artist in Residence at creative arts centres Mirramu (1996), and Bundanon (2013), and Composer in Residence at Visby International Composers' Centre in Sweden (2014).
Lara Mladjen - violin
Media `artists/lara-mladjen` Not Found
Lara began learning the violin through the Suzuki method at age 5. She was a member of the Melbourne String Ensemble from 2012-2015, playing on two international tours as Principal 2nd, making her solo debut with them in 2014. Later that year, she toured with the New Goldberg Orchestra to China playing viola. She has enjoyed participating in numerous Australian Chamber Orchestra and Melbourne Symphony Orchestra Secondary school projects, also partaking in Australian Youth Orchestra National Music Camps since 2015, and Seasons last year.
Over 2016 and 2017 she received numerous Boroondara, Manningham and Waverley eisteddfod awards, and won all divisions of the La Trobe Valley Eisteddfod, subsequently being awarded the Open Teychenne Memorial Scholarship. In 2017 she received second Prize at the Australian Vocal and concerto competition (Youth division) and was invited to perform in the VCE Top Class Series at Melbourne Recital Centre following her Music Performance result in 2016. In 2017 she also attained her Licentiate Diploma in Music, and was last year the inaugural recipient of the David Li Music scholarship upon entering Monash University. She has been particularly thrilled to have repeatedly been invited to play at the Kingston City Council for Human Rights Annual Conferences. Lara has just completed her first year of Bachelor of Music degree, under the tutelage of Dr Elizabeth Sellars and Sophie Rowell.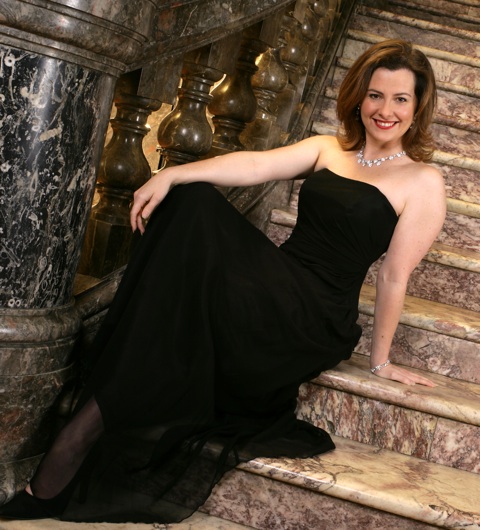 Sally-Anne Russell - mezzo-soprano
Australian Mezzo Soprano Sally-Anne Russell has performed in over twenty countries and has over 40 CD's /DVD's to her credit with ABC Classics, CHANDOS, NAXOS and DECCA labels. Amongst her many awards she has won an ARIA people's choice award and nominations for Young Australian of the Year (Arts), Young Achiever of the Year, Green Room and Helpmann Awards.
She has performed over 70 operatic roles and is a regular guest with all of the Australian Opera companies. Her vast repertoire extends from the virtuosic roles of Handel to Rossini Heroines and new music. She can be regularly heard on the concert platforms with all the Australian Symphony Orchestras and at all major festivals and with major choral organisations. Sally-Anne has sung with Luciano Pavarotti, Vladimir Ashkenazy, Bryn Terfel, Sir Andrew Davis, Bramwell Tovey, Simone Young, Sir Richard Bonygne, Nicholas McGegan, Bruno Weill, and most recently Sumi Jo.
International highlights include Xerses at the Oper der Stadt Köln, Beatrice and Benedict for Washington Opera (DC) at the Kennedy Centre, a 10 year association with the Carmel Bach Festival in California, Die Tote Stadt for Spoleto Festival dei Due Mondi (Italy), Seoul National Symphony, St Martin in the Fields London, Bruckner Te Deum at the Musikverein in Vienna and also concerts in Canada, Japan and most recently in Austria.
Sally-Anne graduated with a Bachelor of Music Performance from the University of Adelaide and has plethora of awards to her credit from The Australian Singing Competition, Herald Sun Aria, Covent Garden Scholarship, Adelaide and Canberra Arias, The National Liederfest, The Royal Overseas League in London and the Belvedere International Singing Competition in Vienna. She was a member of The Victoria State Opera Young Artist Program and is now regularly invited to give tertiary Masterclasses and adjudicate at both a national and international level including Canada, Singapore, Vienna and the USA. Sally-Anne is a regular featured guest with ABC classic FM and appeared recently on the Music Makers Hour with Mairi Nicholson and also with Graham Abbott on Keys to Music speaking about the Mezzo and Contralto voices.
Musical Theatre productions include My Fair Lady, Annie Get Your Gun and the original Australian cast of The Phantom of the Opera.
2015/2016 projects include multiple international concerts and recitals in Scotland, UK, Malaysia, Steiermark and Salzburg in Austria, Da Fallas el Amor Brujo and Mozart Requiem for Whitley Festival, Mozart C Minor Mass in Queensland and in Melbourne, Rosina in Barber of Seville for Melbourne Opera, Recitals with Tony Legge in Sydney, Art Gallery of NSW, Lanier and Johnson with Ludovicos Band, Mass in B Minor and an Opera Gala with The Art of Sound Orchestra at the Organs of the Ballarat Goldfields, Messiah with Collegium Perth, Messiah with both Melbourne and New Zealand Symphony Orchestras with Nicholas McGegan and Bramwell Tovey, Mozart Arias and Requiem with Tasmania Symphony, St John Passion with West Australian Symphony with Asher Fisch, Mozart Missa Brevis K275 with Sydney Symphony Orchestra, Nancy Tang in Nixon In China In Auckland, Voyage To the Moon (national tour) with Victorian Opera and Musica Viva, Michael Lampards world premiere of 'The Souls Expression' at the inaugural Albury Festival with Quartz String Quartet and Opera in the Arboretum in Canberra with Sumi Jo.
In 2017 Sally-Anne has performed an operatic Gala of Handel and Baroque works for The 10th Anniversary of the Peninsula Summer Festival in Mornington, a recital of Purcell for the St Johns Feast Festival with harpist Marshall Maguire in Adelaide, Resphigi's Il Tramonto with Quartz String Quartet at the Melbourne Recital Centre, Opera in the Arboretum in Pearl Beach with David Hobson in NSW and most recently Handels Messiah at St Andrews Cathedral, Bach's B Minor Mass at Christchurch St Laurence, St John's Passion Angel Place and St Matthew Passion at the Sydney Opera House.
Up coming projects include an inaugural operatic Gala for Lyric Opera Central Coast, Carmen with the Tasmanian Symphony Orchestra, Beethoven 9 with Christchurch Symphony Orchestra, Belshazzar with Graham Abbott in Adelaide, Brahms Alto Rhapsody at St Paul's Cathedral and recitals in Adelaide, Devonport, Canberra and Melbourne.
Sally-Anne has also been recently invited to become a member of the Kathaumixw Festival International Artistic Council in Canada and is thrilled to be singing with The Royal Melbourne Philharmonic again where she has had an association as both adjudicator and performer over many years.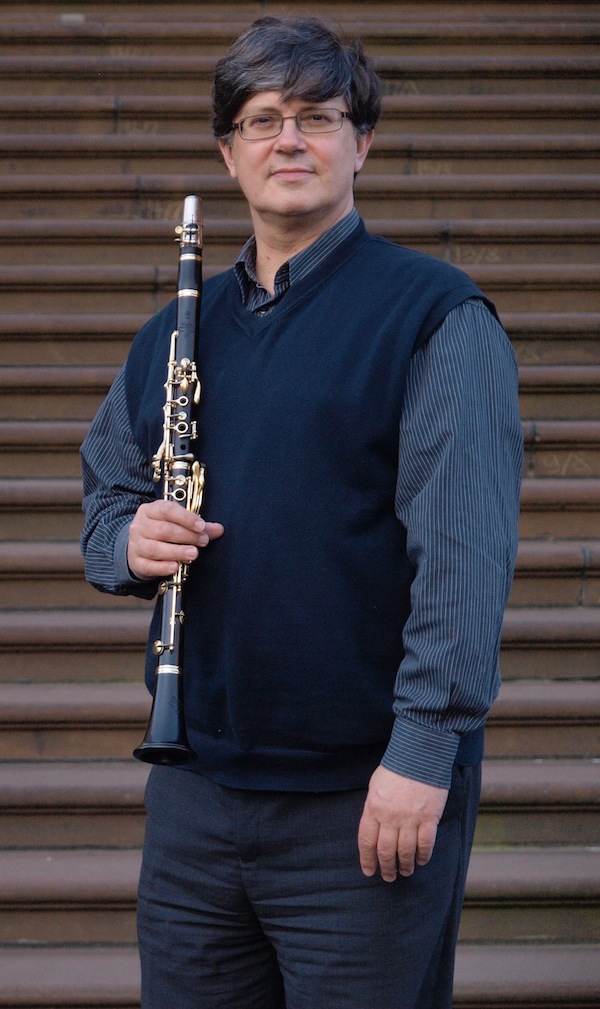 Robert Schubert - clarinet
Robert Schubert graduated from the Victorian College of the Arts in 1979, having studied with Isobel Carter-Stockigt and then returned to work with Phillip Miechel, completing a Graduate Diploma of Music in 1981. From 1983 to 1984, he studied clarinet with James Campbell at the Royal Conservatory of Music, Toronto, Canada and with James Morton of the National Arts Orchestra of Canada in Ottawa. He then went on to study with Larry Combs of the Chicago Symphony Orchestra.
He is a qualified teacher of the Alexander Technique which he has practiced for over thirty years and shares with his students at the Melbourne Conservatorium of Music, Melbourne University, the Victorian College of the Arts Secondary School and in workshops and seminars in educational institutions around Australia.
In 1988 he was appointed Principal Clarinet with the Orchestra Ensemble Kanazawa, Japan, by Hiroyuki Iwaki, a position he held until his return to Australia in 1996. He recorded both standard and contemporary orchestral repertoire with the Orchestra Ensemble Kanazawa on the Deutsche Grammophon, Victor and Sony labels. He also performed with the NHK Orchestra in Tokyo and the Hiroshima Symphony Orchestra. In 1991, he was a finalist in the Tokyo International Clarinet Competition. He appeared frequently as soloist with Orchestra Ensemble Kanazawa and in chamber music performances with the Ebony Ensemble, which he formed in 1993. In 1995 he appeared at the Affinis Music Festival Japan, which brings together professionals from around the world.
In Australia Robert performs with the Melbourne Symphony, Orchestra Victoria and the Tasmanian Symphony Orchestra. He has appeared in the Melbourne International Festival, the International Chinese Arts Festival, the Australian International Clarinet & Saxophone Festival and the MISA music festival, Shanghai, China as soloist, recitalist and with various chamber ensembles including his clarinet quartet Clarion214, and in live broadcasts for the ABC. Mark Pollard, Julian Yu, Tetsuya Nishibe, David Canfield and Dindy Vaghan have all composed clarinet quintets for Robert and he recorded Julian Yu's chamber music in 2000/2001 with assistance from the Australia Council. In June 2003 Robert performed contemporary Korean & Australian works with Melbourne's Trio Erytheia with assistance from the Australia-Korea Foundation. In 2002 Julian Yu wrote the Concerto on Chinese Themes for clarinet & string orchestra for Robert, who made the premier recording for the ABC in March 2004. He has also collaborated with Australian composer Peter Tahourdin (1928-2009). Tahourdin's Clarinet Sonata (1962) and the Trio for Clarinet, Cello and Piano (2005) were both recorded by Robert for the ABC. The composer's delight with the recordings was expressed by his writing two more clarinet works for Robert: Music for Solo Clarinet (2006), (which Robert premiered in December 2012) and the Concerto for Clarinet and Chamber Orchestra (2007). In September 2012 Robert's CD of Julian Yu's clarinet music entitled China Wind was released on Move Records and has received critical acclaim. In September 2012 he gave the world premiere of Julian Yu's The Little Gecko for chamber ensemble, narrator and animation and in 2013 the Chinese premiere of Yu's Concerto on Chinese Themes at the Shanghai International Music Festival (MISA). He is currently recording a second album of the music of Julian Yu to be released in 2017.
Robert was Lecturer in Woodwind (since 1996) and Alexander Technique (since 2008) at the Victorian College of the Arts, and the Melbourne Conservatorium of Music until July 2017. Robert is recognised as one of the leading clarinet pedagogs in Australia with the principal clarinettists of two of Australia's eight symphony orchestras having studied with him, along with many students performing in service bands and contemporary ensembles worldwide.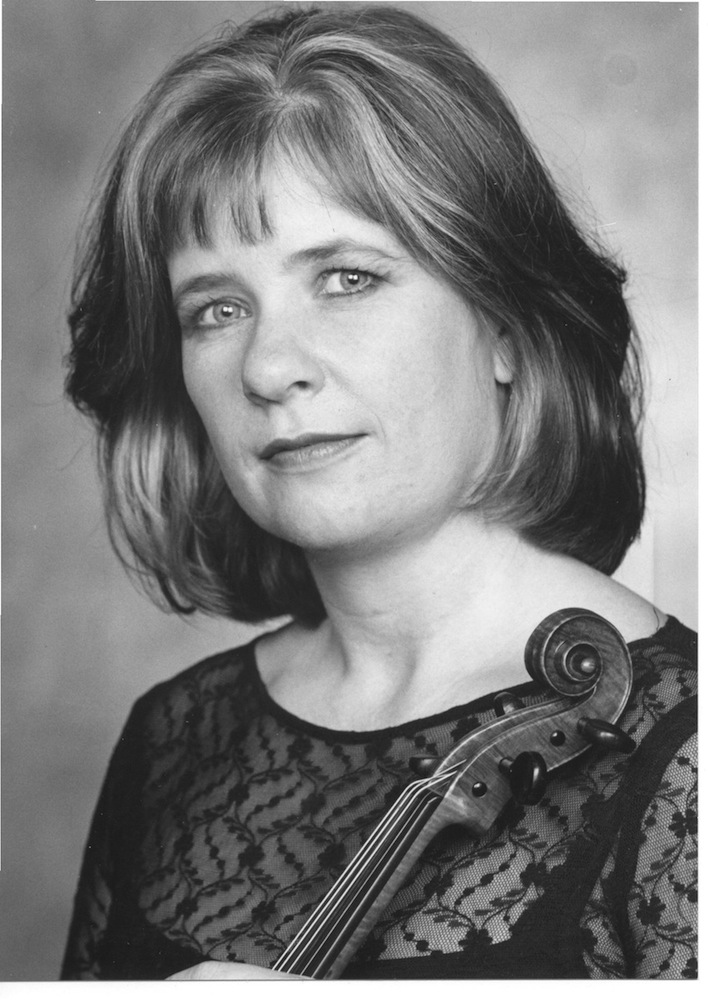 Elizabeth Sellars - violin
Australian born Elizabeth Sellars has enjoyed a distinguished career as both performer and teacher in Australia and abroad with a reputation as "dynamically exciting" (the Australian) and "one of the few violinists…who can handle works that move in new directions – intellectually difficult material…with level headed assurance' (the Age). She is a prize-winning graduate of the Guildhall School of Music and Drama in London where she studied with David Takeno (violin) and the Takacs and Gabrieli String Quartets (chamber music). Further significant influences included Sandor Vegh and Yehudi Menuhin with whom Elizabeth worked at the International Musicians' Seminar at Prussia Cove in Cornwall and at the International Menuhin Music Academy in Switzerland. During her time in London, Elizabeth was a winner of the inaugural John Tunnell Trust and the Royal Overseas League Ensemble Prize and Miller Trophy. As soloist and chamber musician, she toured extensively in the UK, broadcast for the BBC, and performed throughout Europe with the Academy of St Martin-in-the-Fields.
Now resident in Melbourne, Elizabeth is a member of the Sutherland Trio with pianist Caroline Almonte and cellist Molly Kadarauch. As a member of Temenos Trio, which presented its inaugural series in 2001, she was a prize-winner in the 9th Concorso Musicale Internazionale "Riviera del Conero" in Italy. Elizabeth has also performed with the Australian Chamber Orchestra, Elision, the Tin Alley String Quartet and Ensemble Liaison. She has appeared in festivals worldwide including Chichester, Cheltenham, Roaring Hoofs, Port Fairy, Huntingdon, Mornington Peninsula, Dunkeld, Bangalow, Castlemaine and the Blackwood River Chamber Festival.
Elizabeth is strongly committed to the performance of new work and with the support of the Australia Council has performed world premieres dedicated to her by Julian Yu, Dominik Karski, Calvin Bowman, Thomas Reiner and Philip Czaplowski. She has recorded for Naxos, Move and ABC Classics, and her live concerts and recordings are regularly heard on ABC Classic FM. Her recent world premiere recording of the George Benjamin Sonata with Kenji Fujimura was the winner of the 2014 Limelight Chamber Music Recording of Year.
Educating the next generation of students is a passion for Elizabeth. She has presented workshops for the Australian String Teachers Association, the University of Auckland, the International Akaroa Music Festival and the Pettman Junior Academy and as juror, she has served on panels for the Australian Youth Classical Music Competition, the Melbourne International Chamber Music Competition and the Dorcas McClean Scholarship. Elizabeth is currently Co-ordinator of strings at Monash University where she directs the Monash University String Sinfonia and enjoys teaching her many students.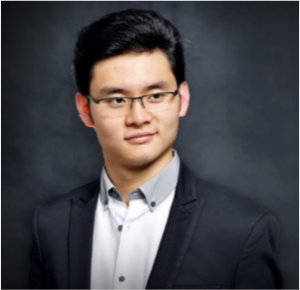 Kevin Kanisius Suherman - piano
Indonesian-born pianist Kevin Suherman has appeared nationally and internationally since the age of 10, after being awarded the Indonesian National Records Award (MURI) for performing 50 classical, pop and jazz pieces, in a concert for 3 hours non-stop and all music memorised
Kevin started learning the piano at age 6 with Stephen Sulungan in Bandung, and he also studied jazz with Mr. Bambang Nugroho. At the age of 10, Kevin performed his first concert in Singapore at the Esplanade Recital Studio, and was awarded in honour by the Embassy of the Republic of Indonesia, Singapore. A year later, Kevin held a charity concert for the 2006 Yogyakarta earthquake victims, which was featured on Indonesian national TV. At the age of 12, Kevin moved to Australia and was accepted into Melbourne Grammar School with a full scholarship. He also played the violin and was the concertmaster of the school orchestra. Kevin graduated as the music captain and was awarded with the Sir Brian Hone honorary medal for his service to music.
In 2017, Kevin was accepted into the Royal Academy of Music in London and was awarded with the Pisani Piano Scholarship for his studies. He is currently completing his Master of Arts degree, studying with renowned pianist Professor Joanna MacGregor OBE. Kevin was also recently offered a scholarship to continue studying at the Royal Academy, and he will commence his Professional Diploma degree in September 2019. Kevin is also the winner of Royal Academy of Music's 2017 Wilfrid Parry Prize, 2018 Delius Prize, the Else Cross Contemporary Piano Prize, and the Isaacs & Pirani Piano Trio Prize.
On the competition platform, Kevin has won national first prizes from the Australian Youth Classical Music Competition, Royal South Street Chopin Competition, Vera Bradford Concerto Competition, and the Melbourne Recital Centre Great Romantics Competition. Kevin competed in the 60th Int. Busoni Piano Competition in Italy, and was a semi-finalist in the 14th Int. Ettlingen Youth Piano Competition in Germany. Kevin holds a Bachelor of Music (Honours) degree from the University of Melbourne Conservatorium of Music, and he graduated as the Valedictorian of the Year 2016. Throughout his time as a student in Australia, Kevin studied with Professor Max Cooke OAM.
Kevin performed his first piano concerto with orchestra at the age of 12 with the Yogyakarta Symphony Orchestra, conducted by André de Quadros. He performs regularly with the Jakarta Simfonia Orchestra with conductor Dr. Stephen Tong, and recent highlight was the acclaimed-performance of Rachmaninoff's Piano Concerto No. 3 in 2015. Kevin has performed recitals in Jakarta, Bandung, Bali, Medan, Penang, Kuala Lumpur, Tokyo, Melbourne, Paris, Cambridge and London. As an artist of Germany's Schimmel Pianos Kevin has made 3 solo albums, with his third highlighting Chopin's 24 Preludes.
Kevin has worked with distinguished world-class musicians such as Menahem Pressler, Paul Badura-Skoda, Karl-Heinz Kämmerling, Andrea Bonatta, Christoph Richter and Adrian Brendel. In addition to pursuing a career as a concert pianist, Kevin is also very passionate in conducting, chamber music, jazz and teaching.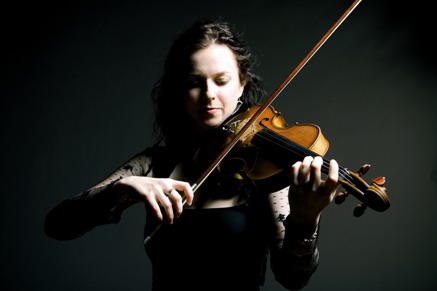 Kathryn Taylor - violin
Born in Tasmania, Kathryn studied for many years with former ABC Concerto Competition winner Alison Lazaroff and gave her first solo performance with orchestra at the age of eleven.After moving to Brisbane, her violin studies continued with Spiros Rantos and Michelle Walsh, with whom she completed her Bachelor of Music in Performance.
In 1999, Kathryn was a recitalist in the National Youth Concerto Competition and after winning the Queensland Symphony Orchestra's 'Young Instrumentalist Competition', performed the Bruch violin concerto with the QSO.Over the years, Kathryn has performed numerous solos and concertos with orchestras throughout Australia.
Kathryn has toured extensively overseas with the Australian Youth Orchestra, 'Camerata Australia' and the Melbourne Symphony Orchestra, and has been Concertmaster of several youth orchestras including the Queensland Youth Symphony.
In 2003, Kathryn attended the Australian National Academy of Music in Melbourne followed by further studies in Dublin with Eyal Kless.Kathryn has had lessons and performed in master classes with Maxim Vengerov, Salvatore Accardo, Takacs Quartet and many other notable international teachers.
Kathryn has worked regularly with the Queensland Symphony Orchestra, Southern Cross Soloists and Melbourne Chamber Orchestra. In 2005, Kathryn was appointed to a permanent position in the first violin section of the Melbourne Symphony Orchestra, often acting as principle first violin.Kathryn is the first violinist in the Melbourne based string quartet 'Quartz' and performs regularly as guest first violinist with numerous other chamber groups throughout Melbourne.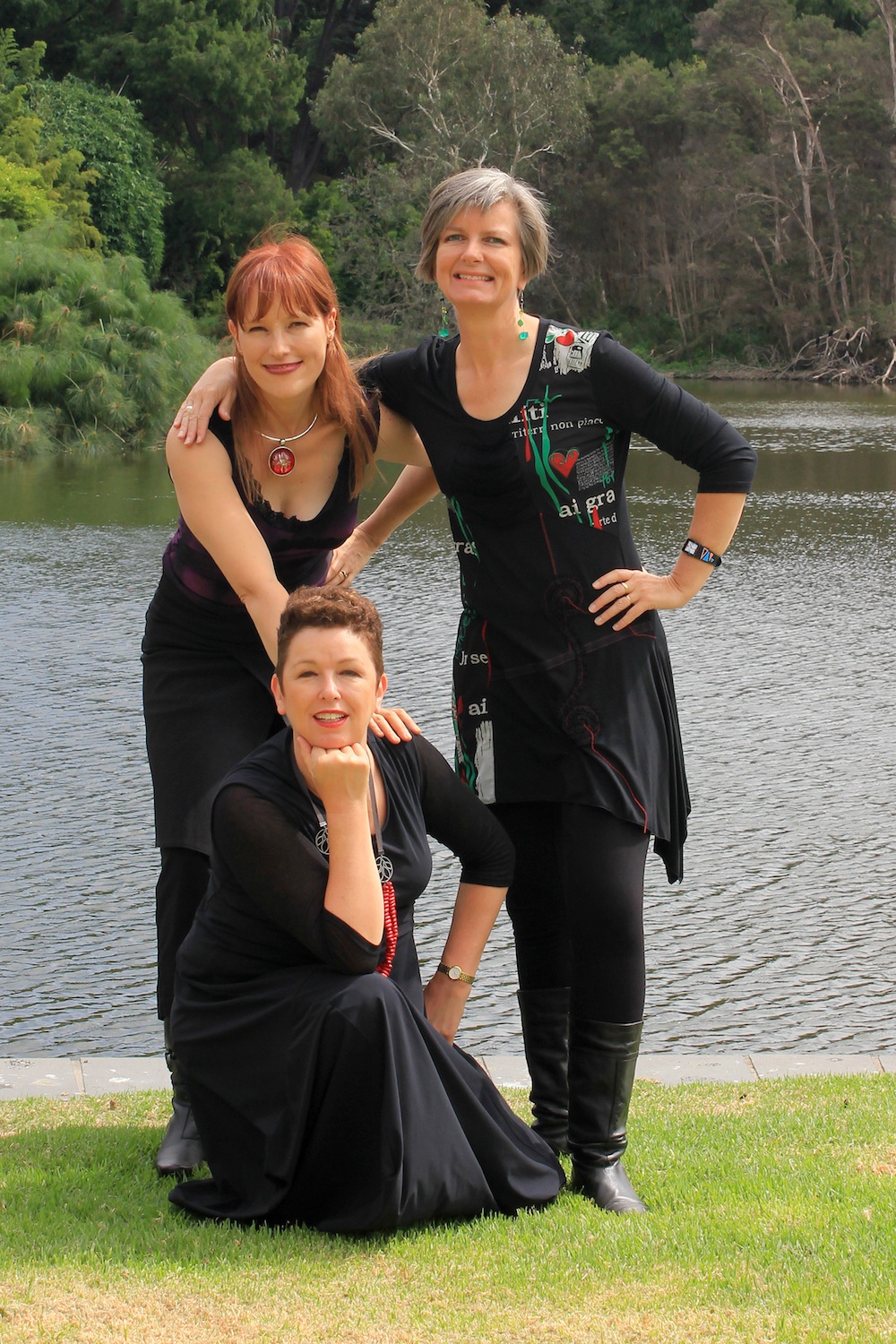 Icon Trio - vocal-ensemble
Icon Trio is a vocal ensemble of three Melbourne-based classical singers: Justine Anderson (soprano), Vivien Hamilton (mezzo-soprano) and Jeannie Marsh (alto). The trio was formed in 2011 for the VoxPix "voices and images" project, in which they collaborated with instrumentalists, choir, animator, and visual artist James Yuncken to provide a live soundtrack to a film of glowing, icon-inspired artworks. VoxPix inspired the trio to continue creating and commissioning multidisciplinary performance projects, exploring vocal music from the Medieval era to today.
Justine, Vivien, and Jeannie each bring decades of performance experience to Icon Trio. Their experiences cover a diverse range of vocal genres, including: contemporary chamber ensemble, cabaret, historically-informed early music, contemporary music-theatre, plus more familiar classical repertoire. Their combination of specialist expertise enables them to explore a broad range of repertoire, integrating new and old music.
In 2012 they began their Scots Haiku project, commissioning 11 Australian composers to set to music the haiku of Scottish poet Bruce Leeming. Over the following years, the trio went on to perform these works in events around Melbourne and in regional Victoria. They continued the Scottish/Australian theme in collaboration with Team of Pianists, performing at concerts with Robert Chamberlain in Barwon Park (2016) and Rippon Lea (2017). In 2019 Icon Trio performed at Melbourne Recital Centre in Generations – a program of music by Australian women composers, curated by Justine Anderson. The members of Icon Trio are delighted to be working again with Team of Pianists.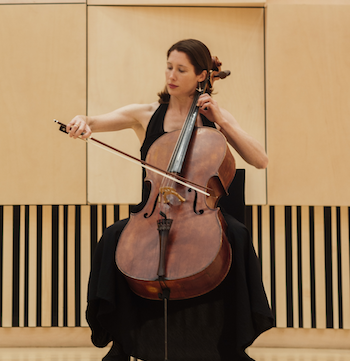 Josephine Vains - cello
Josephine is an Australian cellist, chamber musician and educator. A multi-faceted career has taken her to concert stages throughout Europe, North America, Asia, the Caribbean and Australia and includes performances with a number of award-winning chamber ensembles and orchestras. She has performed regularly for the Melbourne, Sydney, Castlemaine, Port Fairy and Ballarat Goldfields Festivals and Musica Viva. Currently performing Australia-wide with Firebird Trio, she was a founding member of Trio 3.0.3, Freshwater Trio and the Pacific Clarinet Trio. Since returning to Australia after 5 years in Europe, Josephine has explored many facets of musical endeavour, including a love of baroque cello with Accademia Arcadia and the Bach Cello Series and Argentine tango music. Described as "an expressive soloist and fabulous communicator" (The Age), Josephine's debut CD Song of the Birds was released in 2014. She features on regular radio broadcasts including for ABC FM, 3MBS, DRS1 (Switzerland), NDR (Germany) and CBC (Canada).
Josephine's love of music permeates her teaching, and she is currently on the staff at the Victorian College of the Arts Secondary School, the Melbourne Conservatorium of Music at the University of Melbourne and Monash University. Her students are active in the scene both in Australia and overseas, with many pursuing further tertiary studies at universities in the UK, USA and Europe. Her busy musical life also extends to adjudicating, examining, blogging, curating concerts and radio programs. She performs on a lovely old Thomas Kennedy Cello, London 1850.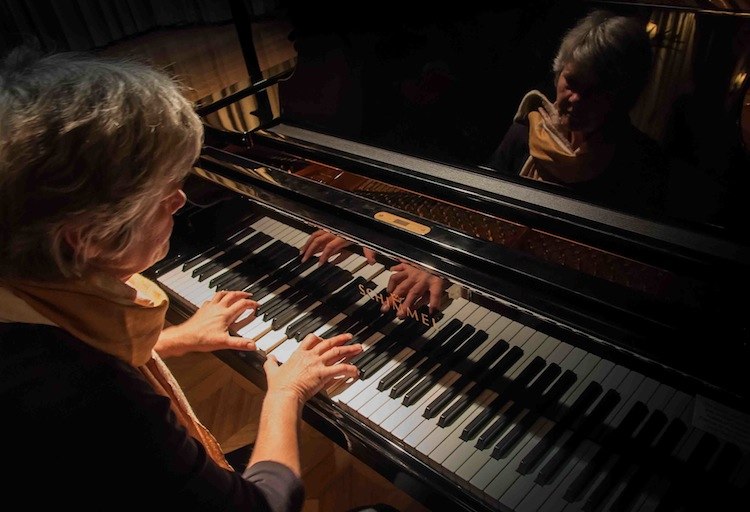 Betty Vergara-Pink - piano, Guest Teacher - Spring Piano School 2019
Betty Vergara-Pink was born in Sydney but spent her early years in country Queensland, where she learnt both piano and violin. Piano however, was to become her instrument and she excelled early by winning local eisteddfods, acquiring an LMusA and performing with the Queensland Symphony Orchestra, all before the end of her high school years in Toowoomba. She studied subsequently with Professor Max Cooke at the Melbourne University Conservatorium, where she completed a Master of Music in Performance. Betty was twice Victorian State winner and Commonwealth Finalist in the ABC's Concerto Competition and had established herself as a soloist and chamber music player.
Then followed a period of study in piano and piano chamber music in Germany, at the Musikhochschule in Freiburg, which led to a teaching position at the Musikhochschule. Returning to Australia in 1975, Betty was appointed Lecturer in Music at Queensland University of Technology in Brisbane and during her time there, she spent six months researching piano teaching methods in the USA and Canada and had a five-month overseas appointment teaching in Japan. In 1993 Betty returned to Germany to take up a professorship in piano and piano pedagogy at the Freiburg Musikhochschule. In 2008 she taught for a semester on exchange at Sydney Conservatorium of Music.
Since her return to Melbourne in 2012, Betty has been on the panel of adjudicators for the National Piano Award in Shepparton, adjudicated at the Australian National Eisteddfod in Canberra, in Perth and at the Sydney Eisteddfod. In a vibrant and active interaction in her lessons, Betty aims to help young people develop independence, through an emphasis on aural memory and expressive understanding.