Autumn Piano Weekend
Autumn Piano Weekend 2013 was held at Glenfern on March 23 & 24...
Around 22 pianists participated in a packed program of piano study in the historic surrounds of National Trust property Glenfern, in East St Kilda, Melbourne. Guest teaching staff included Betty Vergara-Pink, formerly Professor of Piano and Piano Pedagogy, Musikhochschule Freiburg and Dr Sandra Nash, Director of Studies, Dalcroze Australia. Team of Pianists staff were Prof Max Cooke, Darryl Coote and Robert Chamberlain, who devised and directed the event.
Themes for weekend included:
Practice and Learning (Saturday morning)
Movement and Musicianship (Saturday afternoon)
Developing technique for Adults and for University students (Sunday morning)
The Mystery of Memorisation (Sunday afternoon)
For further information download a summary with photos and schedule.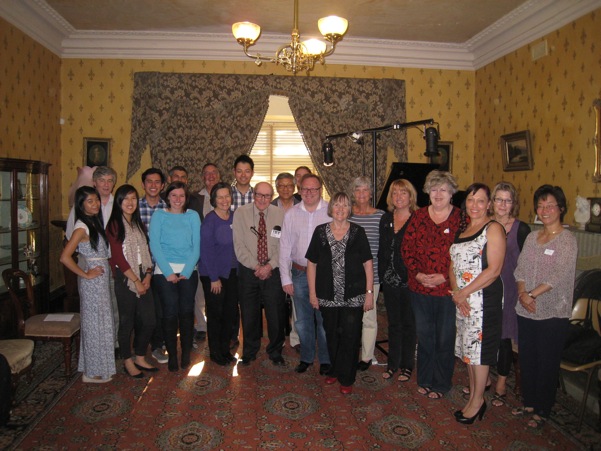 Upcoming Events
2020 Bernstein Piano Marathon at Rippon Lea
In this community piano event at Rippon Lea Estate, up to 100 pianists, young and old, will perform by invitation in the Ballroom at Rippon Lea, on a fine grand piano from Bernies Music Land. Bring your friends or family for a picnic, enjoy the music, gardens and wonderful heritage site, during this fundraising event for the National Trust! A range of special benefits are available on the day to performers and their families at this enjoyable musical event. See the information and invitation letter for full details and to apply to perform. Applications close Friday January 10, 2020.
Date and Time
Sunday January 26, 2020 - 10.00am to 5.00pm
Rippon Lea, 192 Hotham St, Elsternwick
Twilight Chamber Music at Rippon Lea
Concert 1 - Where the Wild Sings Are: Songs of Animals and Beasts
Icon Trio - Justine Anderson (soprano), Vivien Hamilton (mezzo-soprano), Jeannie Marsh (alto), with Robert Chamberlain (piano). A vibrant ménagèrie of Australian rounds, unaccompanied madrigals, well-known classical masterpieces, medleys of popular songs, plus a few piano solos on animal themes. Composers featured include Flanders and Swann, Rossini, Richard Rodney Bennett, Tom Lehrer and plenty more!
Date and Time
Sunday April 19, 2020 at 6.30pm
Rippon Lea Ballroom, 192 Hotham Street, Elsternwick (Melway 67 E2)
Book Now!
Rigg Bequest Classic Music at Barwon Park
A Musical Flower-Garden for clarinet, cello & piano
Robert Schubert (clarinet), Josephine Vains (cello), Robert Chamberlain (piano), in a varied and highly contrasted program of chamber music, ranging from the Baroque conversational sensibility of J S Bach's Gamba Sonata in G, performed on modern instruments, through the Romantic exuberance of Bruch's pieces for clarinet, cello and piano, to the brooding passion and end-of-century energy of the little known Trio Op. 3 by Zemlinsky! Plus works by Australian composer Julian Yu and an amusing selection from Hindemith's Musikalisches Blumengartlein und Leyptziger Allerley for clarinet & cello.
Date and Time
Sunday May 3, 2020 at 2.00pm
Barwon Park, 105 Inverleigh Road, Winchelsea, VIC (Melway X911 B8)
Book Now!
Downloads