Piano Masterclasses
Darryl Coote, Max Cooke and Robert Chamberlain have organised Piano Masterclasses given by many international interstate visiting teacher/performers, including: Professor Thomas Hecht from the Yong Siew Toh Conservatory of Music/National University in Singapore (2004), Margaret Hair from Sydney (2004), Professor Akira Imai from the Kunitachi Academy in Tokyo (2005), Professor Rolf Plagge from the Mozarteum in Salzburg (2006), Helen Krizos from the Royal Northern College of Music in Manchester (2006), Professor Roy Howat from the Royal Academy of Music in London (2007), Professor Michael Leuschner from the Musikhochschule in Freiburg (2008), Professor John Damgaard formerly Assistant Professor at Royal Danish Conservatorium, Denmark (2010), Professor Roger Lord from the University of Monckton (2011), Graham Fitch from London (2012) and Jocelyn Ho - New York based winner of ANPA (2014).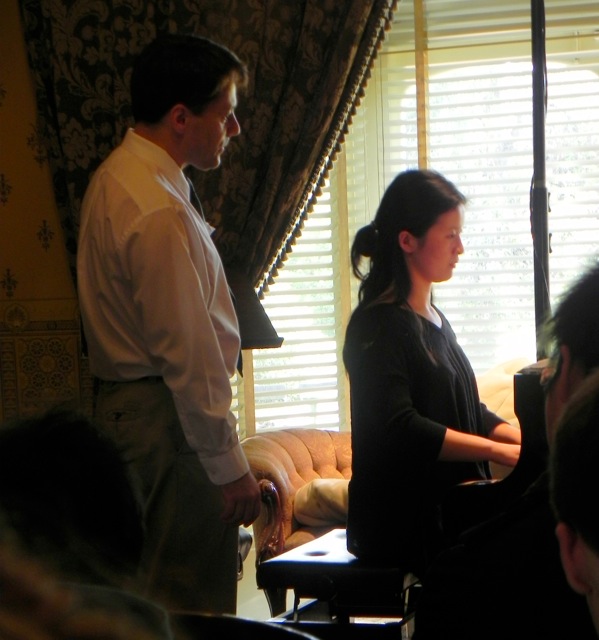 Upcoming Events
Twilight Chamber Music at Rippon Lea
Concert 1 - Where the Wild Sings Are: Songs of Animals and Beasts
Icon Trio - Justine Anderson (soprano), Vivien Hamilton (mezzo-soprano), Jeannie Marsh (alto), with Robert Chamberlain (piano). A concert of songs inspired by the world of animals, including unaccompanied madrigals, Australian rounds, comedic songs by Tom Lehrer, Flanders and Swann (including Mud, Mud, Glorious Mud with audience sing-along), delightful songs by Poulenc, Chabrier, Barber, Stravinsky, Richard Rodney Bennett and more, plus piano works based on animal themes. Don't miss this vibrant ménagèrie with the outstanding soloists of Icon Trio.
Date and Time
Sunday April 19, 2020 at 6.30pm
Rippon Lea Ballroom, 192 Hotham Street, Elsternwick (Melway 67 E2)
Book Now!
Rigg Bequest Classic Music at Barwon Park
A Musical Flower-Garden for clarinet, cello & piano
Robert Schubert (clarinet), Josephine Vains (cello), Robert Chamberlain (piano), in a varied and highly contrasted program of chamber music, ranging from the Baroque conversational sensibility of J S Bach's Gamba Sonata in G, performed on modern instruments, through the Romantic exuberance of Bruch's pieces for clarinet, cello and piano, to the brooding passion and end-of-century energy of the little known Trio Op. 3 by Zemlinsky! Plus works by Australian composer Julian Yu and an amusing selection from Hindemith's Musikalisches Blumengartlein und Leyptziger Allerley for clarinet & cello.
Date and Time
Sunday May 3, 2020 at 2.00pm
Barwon Park, 105 Inverleigh Road, Winchelsea, VIC (Melway X911 B8)
Book Now!
Twilight Chamber Music at Rippon Lea
Concert 2 - Tradition and Antipodean
Melbourne Symphony musicians Kathryn Taylor (violin), Gabrielle Halloran (viola), Rohan de Korte (cello) join Darryl Coote (piano)
in a program contrasting Beethoven's Sonata in G minor for cello & piano Op 5 No 2 and Mozart's attractive Piano quartet in G minor KV 478 with historical Australian composer Arthur Benjamin's Sonata for viola & piano.

Date and Time
Sunday May 17, 2020 at 6.30pm
Rippon Lea Ballroom, 192 Hotham Street, Elsternwick (Melway 67 E2)
Book Now!
Downloads