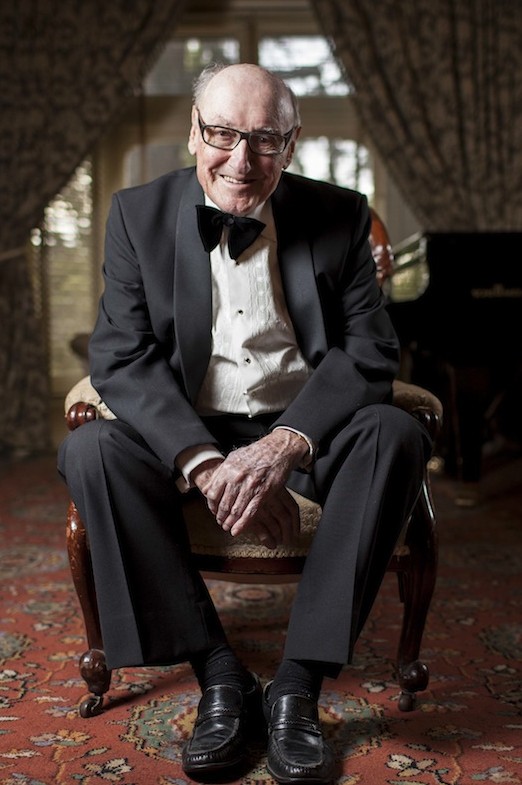 For many years, MAX COOKE has been a leading figure in music performance and education, and he has taught some very talented students some of whom are Professors of Music in Germany, Scotland and in Australia. His own performances have brought him together with famous musicians and conductors.
Max Cooke studied at the University of Melbourne, specialising in Music at the University Conservatorium and languages in the Arts Faculty. He then proceeded to Europe where he studied piano at the Ecole Normale de Musique in Paris, under the great concert pianist Alfred Cortot, and he studied at the Mozarteum in Salzburg.
In 1951 he was invited by Professor Heinze to return to the Conservatorium as a member of staff. Max Cooke has remained on the staff of the University of Melbourne ever since. He started as Chief Study Teacher, was then Senior Lecturer and later Associate Professor (Reader), and he was for six years until 1981 Dean of the Faculty and Chairman of the Department of Music. He is a Professor at Monash University, and he teaches also at the Victorian College of the Arts.
His career is involved with performance and teaching, and he has produced a number of publications on music and on piano teaching, including one on Japanese Music Teaching Methods in Australia, and two on his work with musically gifted children. His publications titled TONE, TOUCH AND TECHNIQUE, together with CDs and videos that accompany them, have been used extensively by piano teachers and students. They combine wide pianistic knowledge and experience with very considerable investigation and research into the physics and physiology of piano performance. He has lectured on these publications in Europe and England as well as in Australia.
Max Cooke has been president of the Victorian Music Teachers Association, National President of the Australian Society for Music Education, and Chairman of the Commission on the Education of the Professional Musician within the International Society for Music Education (ISME).
In the field of performance, Max Cooke has played many times as soloist with orchestras, giving over sixty concerto presentations, and he has been regularly involved with chamber music and accompanying, playing both piano and harpsichord. He has worked with many local and overseas musicians, and has spent a considerable time in Europe, particularly in Germany. He has been an adjudicator on the panel of the Busoni International Piano Competition in Bolzano (Italy).
With the TEAM OF PIANISTS which he directs, he has given and organised many recitals, has produced seven CDs and two videos, and he conducts broadcasts on radio 3 MBS FM. One of the Team¹s successful annual events is a series of recitals titled TWILIGHT CHAMBER MUSIC AT RIPPON LEA, involving the Team of Pianists with leading musicians from Australia and overseas.
In 1988 Max Cooke was invited to become a Fellow of the Australian College of Education. In the Queen's birthday honours lists of 1998, he was awarded the Order of Australia Medal for services to music and to education, particularly to piano pedagogy and the training of students. In 2001, Max Cooke received the 'Bundesverdienstkreuz' from the President of the Federal Republic of Germany, Johannes Rau. This makes him an Officer of the Order of Merit of the Federal Republic. In recent years he has taught a number of very talented students from around the world, and he has taken them on concert and study tours to Europe, China, Indonesia and Malaysia.
Upcoming Events
Twilight Chamber Music at Rippon Lea
Concert 1 - Where the Wild Sings Are: Songs of Animals and Beasts
Icon Trio - Justine Anderson (soprano), Vivien Hamilton (mezzo-soprano), Jeannie Marsh (alto), with Robert Chamberlain (piano). A concert of songs inspired by the world of animals, including unaccompanied madrigals, Australian rounds, comedic songs by Tom Lehrer, Flanders and Swann (including Mud, Mud, Glorious Mud with audience sing-along), delightful songs by Poulenc, Chabrier, Barber, Stravinsky, Richard Rodney Bennett and more, plus piano works based on animal themes. Don't miss this vibrant ménagèrie with the outstanding soloists of Icon Trio.
Date and Time
Sunday April 19, 2020 at 6.30pm
Rippon Lea Ballroom, 192 Hotham Street, Elsternwick (Melway 67 E2)
Book Now!
Rigg Bequest Classic Music at Barwon Park
A Musical Flower-Garden for clarinet, cello & piano
Robert Schubert (clarinet), Josephine Vains (cello), Robert Chamberlain (piano), in a varied and highly contrasted program of chamber music, ranging from the Baroque conversational sensibility of J S Bach's Gamba Sonata in G, performed on modern instruments, through the Romantic exuberance of Bruch's pieces for clarinet, cello and piano, to the brooding passion and end-of-century energy of the little known Trio Op. 3 by Zemlinsky! Plus works by Australian composer Julian Yu and an amusing selection from Hindemith's Musikalisches Blumengartlein und Leyptziger Allerley for clarinet & cello.
Date and Time
Sunday May 3, 2020 at 2.00pm
Barwon Park, 105 Inverleigh Road, Winchelsea, VIC (Melway X911 B8)
Book Now!
Twilight Chamber Music at Rippon Lea
Concert 2 - Tradition and Antipodean
Melbourne Symphony musicians Kathryn Taylor (violin), Gabrielle Halloran (viola), Rohan de Korte (cello) join Darryl Coote (piano)
in a program contrasting Beethoven's Sonata in G minor for cello & piano Op 5 No 2 and Mozart's attractive Piano quartet in G minor KV 478 with historical Australian composer Arthur Benjamin's Sonata for viola & piano.

Date and Time
Sunday May 17, 2020 at 6.30pm
Rippon Lea Ballroom, 192 Hotham Street, Elsternwick (Melway 67 E2)
Book Now!
Downloads